Why You Need To Benchmark Your Call Center
As call centers become more complex with deeper levels of integration into other channels, it is important to understand how technical issues such as Ready State, CRM delays and Voice Quality could affect Running Costs and, ultimately, your Customer Experience.
AdvaTel provides a range of testing services and offers a set of effective simulation tools for analyzing a call center's costs and revenues under a variety of conditions.
Omni-channel Performance Testing Consulting and Advice
Performance testing of Omni‑channel
Cloud-based end-to-end experience testing
CLOUD
Customer calls are placed through the Service Provider
Suitable for production Contact Centers
All tests are executed from within Data Synergy cloud data centers
Benefits:
Production performance visibility
Continuous production monitoring
STANDALONE
Customer calls are placed locally
Suitable for pre-production systems
All tests are executed On-Premise
Benefits:
Increased security
More thorough tests could be devised
No additional call charges
Complete end-to-end solution for Omni-channel experience testing:

Voice
Web
Email
Instant Messaging
Screen Sharing

Production monitoring
Generating incoming/outgoing call traffic for SIP trunks
Advanced Call Workflow Scripting
Support for both, Audio and Video RTP streams
Voice quality measurements
Event pack

Best Service Level (shortest time to answer)
Average time-to-ring/time-to-queue
Call drop statistics

IVR Scanner
Metrics and Executive Summary
While managers use spreadsheets often for financial analysis and reporting, very few would think to use simulation tools for the same purpose. We measure Efficiency, Loss of Business and Customer Experience by thoroughly analysing and comparing the technical operations performance of your systems with the real-time customer experience metrics.
Audio Delay
Round Trip Latency
Packet Loss (%)
Voice Quality
Customer Experience Metrics
Voice Quality
Queue and Hold Times
# of Transfers
First-Call Resolution Rate
A full operations snapshot with a precise history-based picture of the business unit effectiveness. We tailor the reports combining data from multiple sources so it is 100% meaningful and show you what is important to your business. Download our data sheet to learn more.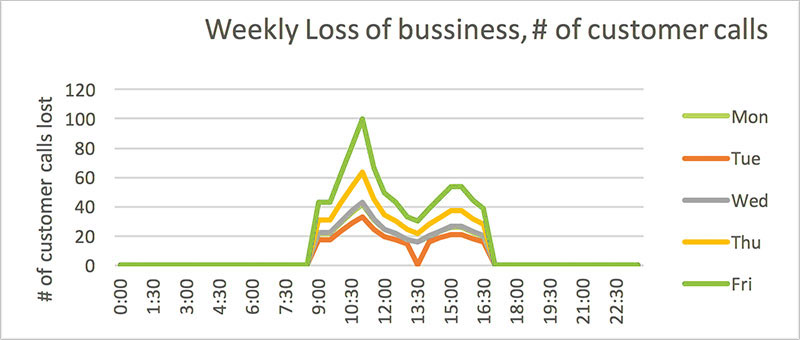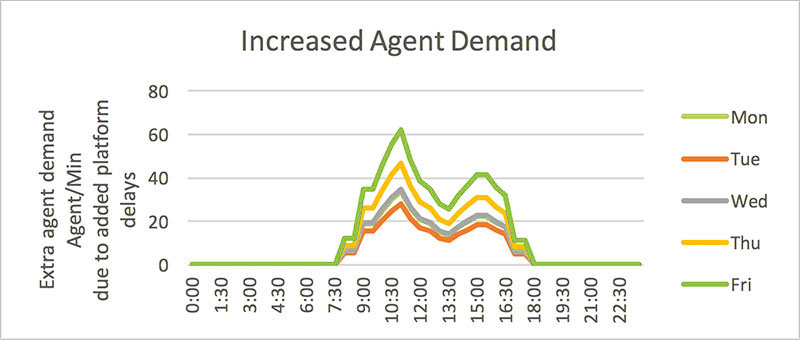 Instant Loss Visualisations