Real-Time Cloud Wallboard Analytics
Why?
Omni-Intelligence provides the platform enabling managers, supervisors, and agents to see a complete picture for contact centres real-time operational data. With passive and active quality monitoring of all aspects of the involved technology including historical data and predictive analytics which is made available at a glance while proactively alerting key managers when critical situations arise.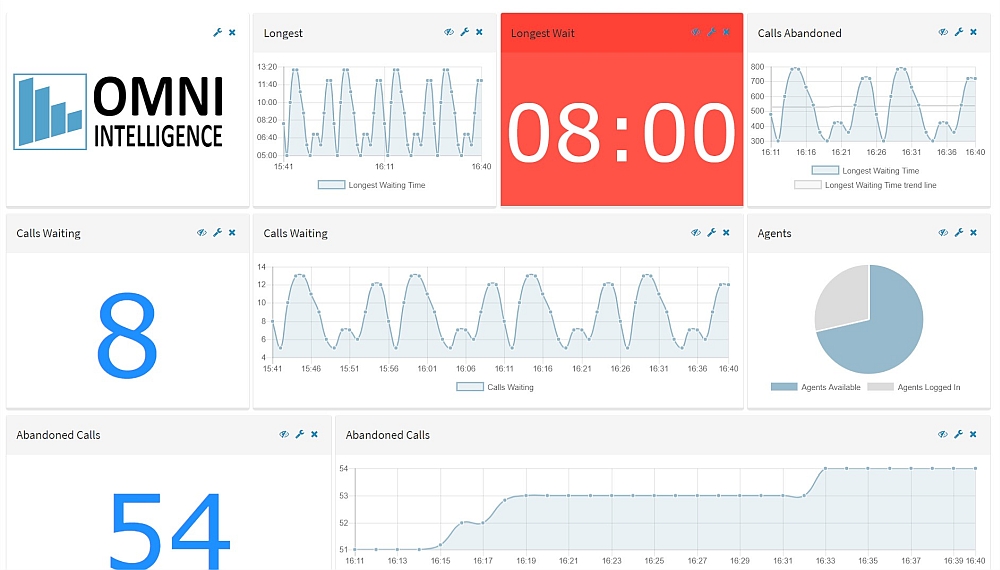 Benefits
Omni-Intelligence Analytics View will automatically display the Real-Time Calls Waiting information to the agent specific skill sets
Real-time and historical data can be displayed in text or graphics
Trends and predictive analytics are visualised
Multiple Skills can be displayed within one view allowing the agent to view call waiting information
Automatic threshold alerts (including any aspects of SLA monitoring) can be customised on any real time data fields and escalated via automated, interactive, workflow-enabled email, phone call and SMS channels
Current (most recent) and historical ASA, WT, AWT, AASA, ART are visualised real-time to be managed effectively
Predict and address high absence rates and low schedule adherence
View live information about call capacity and peak call volumes
Increase Productivity and Operational Efficiency
Bring tomorrows BI tools to virtual any contact centre without hardware and/or software updates.
Cloud Based
Increase ROI without additional capital expenditure
Expand your current centre solutions lifespan, while;
No additional licenses / software purchases are needed
No expensive / lengthy installations are required
All related expenses are OPEX only
Agents Real-Time Status
Displays a summary and individual status and duration.
Can be sorted by Presence state, Name or Duration
Easily display individual presence groups by selecting the filter button
Provides Supervisor and Managers an indication of agent Adherence.

Enhanced Management Reporting
Easily Customize reports from the user friendly UI – Select the required datafields to be included into the report.
Easily schedule reports to be emailed each day, week or month in CVS, PDF or XPS, no need to spend hours manually collating data
Reports include:

Queue Performance
Agent Performance
Agent by Queue
Abandoned calls details report – include CLI, Queue which they dialled into , the duration before abandoning. This allows the contact centre to call back the callers to provide an enhanced Customer Experience.
Address Attrition
Live data visibility brings gamification, competition and productivity boosting rewarding visibility to daily working environment
Address Lack of / Poor Cross-Departmental Collaboration
Thanks to OI's seamless agent integration, we'll bring to you any information you might need in real-time or share information with others according to your business needs
Address Insufficient Self-service (IVR, WEB, mobile)
Improve customer experience and increase self service via automating customer education when applicable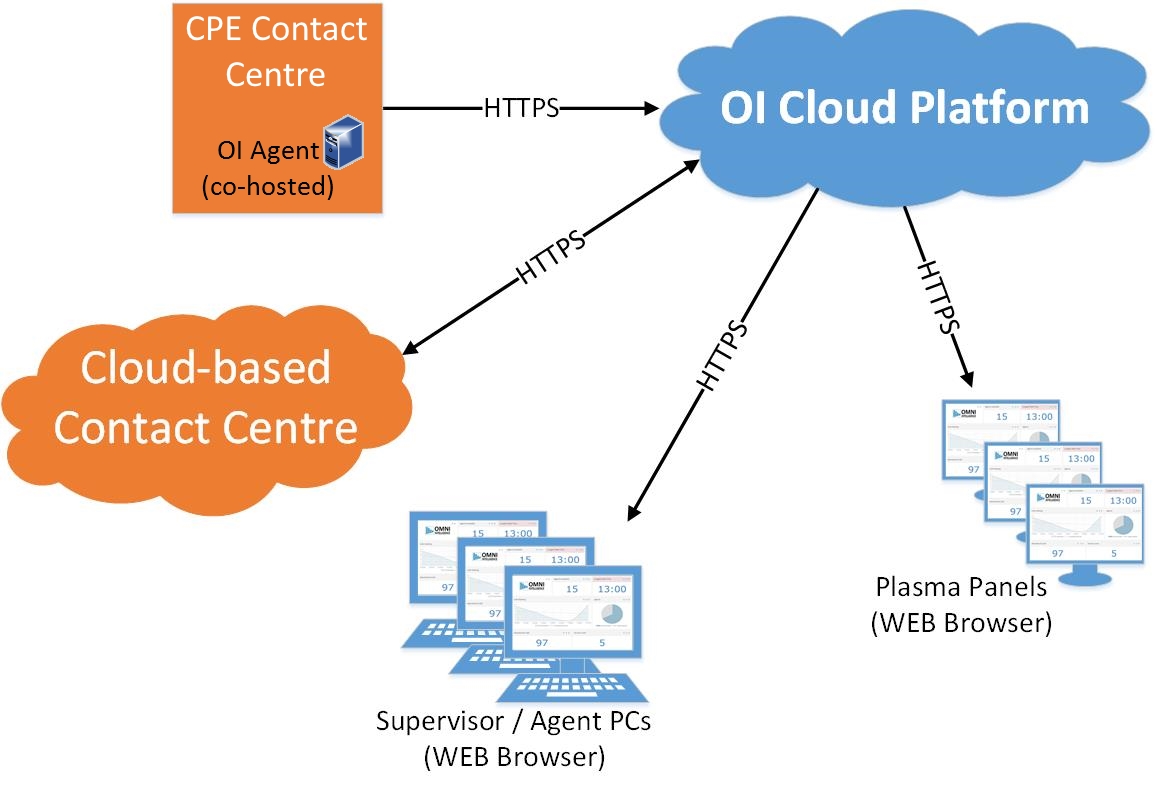 What Call Centres Are Supported?
Genesys Purecloud
Genesys Pureconnect (CIC)
Microsoft Skype for Business
Wallboard Features:
Captions
Values (Timespans, Numbers, Precision digits)
Lists
Static Images and Video Feeds
Line / Bar / Polar Area / Pie charts