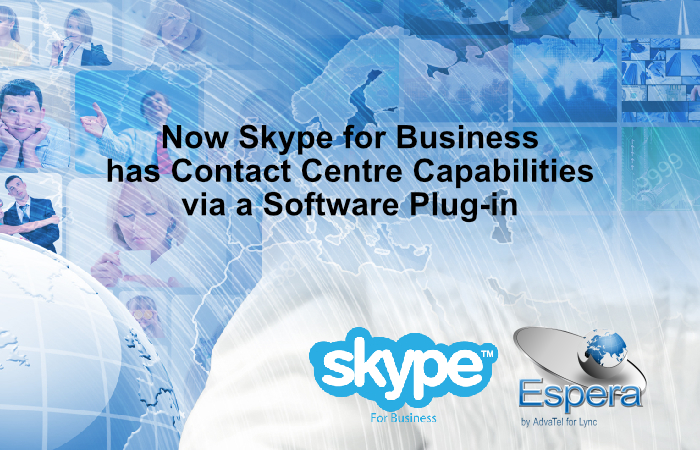 Skype for Business has retained the excellent telephone call queuing capability of the traditional Lync "Response Group". The Espera plug-in software converts the Skype for Business Response Group into a Contact Center and includes excellent real time and historical reporting. In addition it includes a call wrap-up reporting capability for those wanting to further analyze their call types and outcomes.
Espera (by AdvaTel) has successfully installed hundreds of Espera installations on Lync Response Groups and now make the same capabilities available for Skype for Business. A new customizable supervisor's screen is now available that can be designed to initially show the key fields of Contact Center information that are important to them and their industry. AdvaTel use the term "Glance Management" so supervisors can instantly gain an overall picture of the current position without the need to drill down further.
Phillip Wong, Director of Marketing said: "This new release not only provides a solid upgrade path for existing Espera plug-in users but also adds a very competitive Contact Center capability for new Skype for Business proposals."
The Response Group call queuing capability is a part of the standard Skype for Business voice license.
Learn more about Espera here.
For further information, contact – PhillipW@advatel.com.au, call +613 8695 8695 or visit www.advatel.com.au
AdvaTel, established for more than 20 years is involved in developing software applications for the telecommunications' industry. AdvaTel, based in Melbourne, Australia has a second development office in Rostov-on-Don in Southern Russia. AdvaTel's products center around soft PC based operator's consoles for TDM and SIP switches, Unified Communications as an Outlook plug-in as well as Call Center Management packages.
jamiew
20 Sep 2016
Comments Off

on Now Skype for Business has Contact Center Capabilities via a Software Plug-in